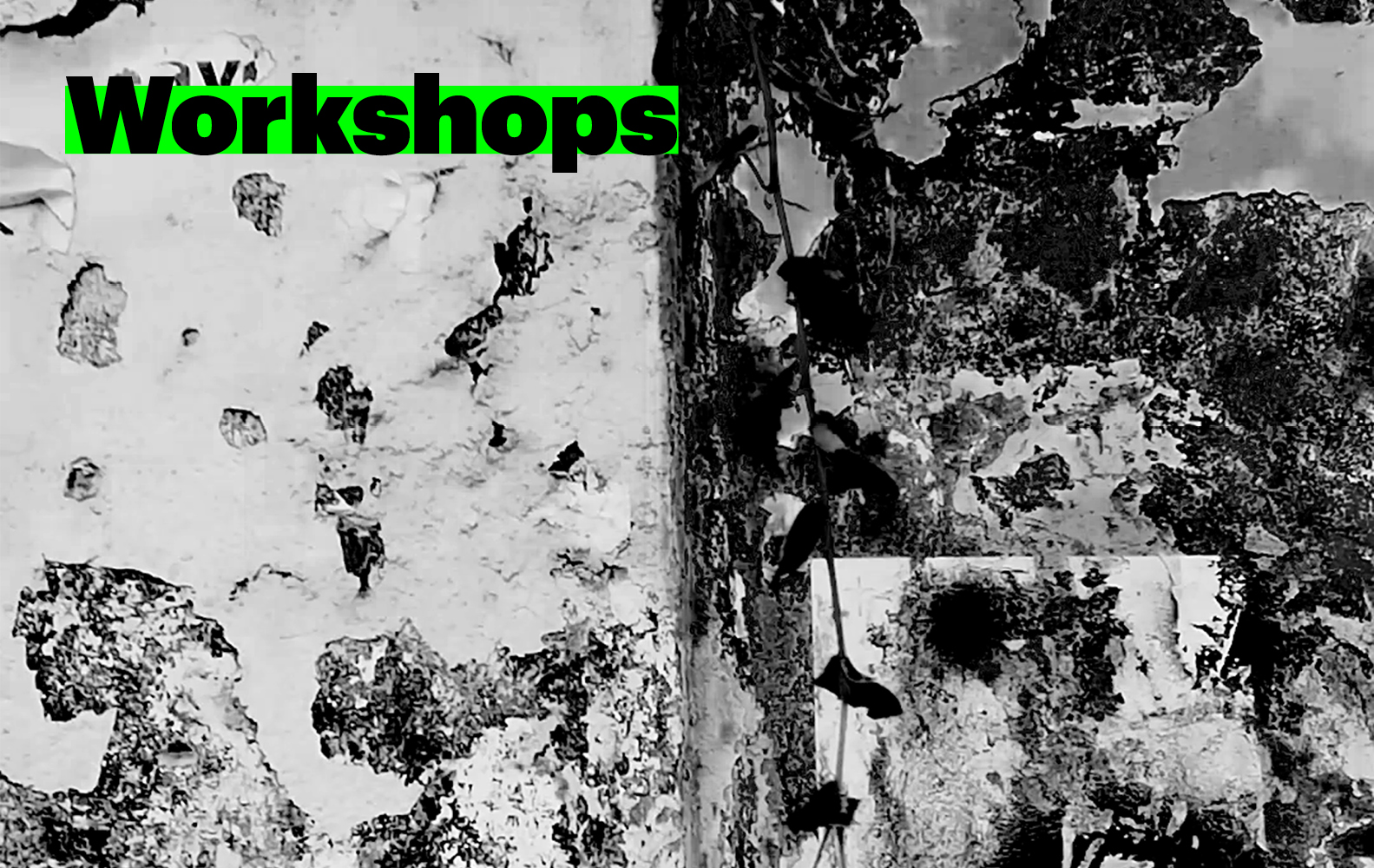 WORKSHOPS 2018
Saturday, June 23
9 AM - 12 PM 
Beirut Digital District 1280
Free of Charge
Saturday, June 23 
10 AM  -  7 PM
antwork
Free of Charge
Join Judy's Sketchbook and Urban Sketchers Lebanon in a day out. Let's gather our sketch tools and hit the streets of Beirut. This event aims to explore and sketch the streets of Beirut and make as many drawings of the city as we possibly can.
Saturday, June 23
4 PM - 7 PM 
Hamra Street. Starting point: Fransabank 
Fees: 10 USD 
A workshop where participants design and build a public living room (furniture and shading structure) under the guidance of professional designers who will teach them to practice woodwork and metalwork skills while making a public space come to life.// two workshops, with two tutors: Rawad Rizk for woodwork and Naja Rechmani for metal work. The design and manufacturing will take place from the 23rd till the 25th.
3 Days Workshop
Starts Sunday, June 24
Ends Tuesday, June 26
10 AM - 6 PM 
Small Square on Badaro Street, facing Byblos Bank
Fees: 90 USD 
Sunday, June 24 
4 PM - 8 PM 
Beit Beirut and Site Visit 
Free of Charge
4 Days Workshop
Starts Monday, June 25
Ends Thursday, June 28
10 AM - 3 PM
Beit Beirut and surrounding neighborhoods
Free of Charge
All work and no play makes Jack a dull boy. What's the difference between work and play? Where does productivity end and unproductivity begin? Does purposeful play go against the very nature of playfulness?
Performing (un)Real Economies is a playful workshop exploring the use of improvisation games and Live Action Role-Play (LARP) as tools for collectively designing alternative worlds. Through LARPing we can safely fail and try out things we would avoid in real life, making them natural spaces for exploration of what kind of worlds are possible and/or preferable. 
Let's blur the lines between real and (un)real economies, shifting our sight from the dominant capitalist market, to the unseen diverse practices of work and exchange. Drawing inspiration from the unpaid housework, alternative currencies, gift giving, civic hacking, co-gardening, and candy sharing, we will speculate on what (un)real economies could exist in the future (or a parallel universe). 
The workshop is aimed at creative 'professionals' interested in exploring new tools for their practice or anyone interested in questions of diverse economies and spending a day to play. Through peer-learning, laughing, discussion, make-believe and bad acting we will collectively question our own notions of values, labor, productivity - and economy. The workshop will leave you with a new sensibility to economies, and a taste of different improv exercises and how to create and play a LARP.
Take a break from reality and indulge in some (un)real fun.
Monday, June 25
10 AM - 5 PM
antwork 
Free of Charge
Head of future Thinking Mariano Alesandro, from INDEX: Design to Improve Life, will run a short hands-on workshop with focus on the United Nations Sustainable Development Goals. 
You will get to know the structure of the design based innovation tool The Compass, and you will experience some of the basic techniques and their teaching and learning effects.
Mariano is looking into the future's horizon, analysing how the designs in INDEX: Award's pipeline work together, identifying design trends, the drivers of change behind them, and how they can help solving the United Nations Sustainable Development Goals.
Tuesday, June 26
10 AM - 1 PM
antwork
Fees: 40 USD
In this workshop, we explore an emerging (transdisciplinary) field of design - Governance Design. Governance Design is an activist practice, which cuts across traditional design disciplines such as product design, service design and architecture, and calls for an increased awareness and concern for the governing effect of design at large. It highlights the need for designers to be consciously aware of how relations of power and accountability are produced or reproduced through design(ing), and the extend to which societal norms and values influence how and what we design.
Through a mix of presentations and small group exercises, this workshop will immerse you in the world of Governance Design. We will together explore the governing effects of mundane objects and technologies and consider how designers, more consciously and deliberately, may use design as a means of questioning and rethinking, societal governance relations. As Governance Design can involve activism, we will also discuss the ethical considerations of engaging in this potentially disruptive practice.
Tuesday, June 26
3 PM - 6 PM
antwork
Fees: 40 USD
This hands-on workshop is for anyone with an interest in data visualization and in cities. No previous experience of data or design required. Participants will get a crash course in data-driven visual storytelling, collect data from the city around them, and have a go at telling their own visual stories.
We will first start with an introduction to data visualization, exploring questions like what is data? how do we collect and organize it? how to best represent it to communicate our message? 
Participants will then be collecting their data, and working on a specific theme that will be shared during the workshop. They will analyze their findings, and create one or a series of visuals that help communicate their theme.
Wednesday, June 27
2 PM -  6 PM
antwork
Fees: 25 USD
Beirut has lost its character due to poor urban planning & the emergence of faceless entities. This collaborative workshop will explore how to solve this problem. Participants will use design thinking techniques and branding principles to propose innovative solutions to rebrand the city of Beirut.
Thursday, June 28
9 AM - 6 PM
Abdul Hamid Karami Street, Bab Idriss, Abboud Abdul Razzak Building, 3rd Floor
Fees: 30 USD  - including breakfast and lunch 
We believe that inspiring through possibility is more powerful than highlighting problems. Design is our tool to make invisible possibilities into inspiring visions.
We ask:
What does our dream city feel like? And how can we visualize this dream? Especially when it is more about everyday interaction than flying cars. A city equally defined by physical space as by human interaction.
In this workshop, we will use design methods, communication strategy, and some serious play to create social visions to believe in.
You will come in with ideas of what you would change in the city. You will go out with a strong tool for getting people to believe in your ideas.
Take away:
An understanding of why project visions work
Practical design methods for fuzzy beginnings
Co-creation methods to focus multiple opinions
Visualisation techniques
A real statement and vision
Method cards of the methods used
What we will do:
We start by creatively reframing our definitions of a social city. In groups, we develop statements that clarify ideas, challenges or reasons. We then co-create ideas to connect people or open accessibility. And then we visualise these ideas. The result: strong messages through clear words and the fun of collage – inspiring visions born from a unification of purpose and play.
Thursday, June 28
10 AM - 4 PM
antwork
Fees: 40 USD