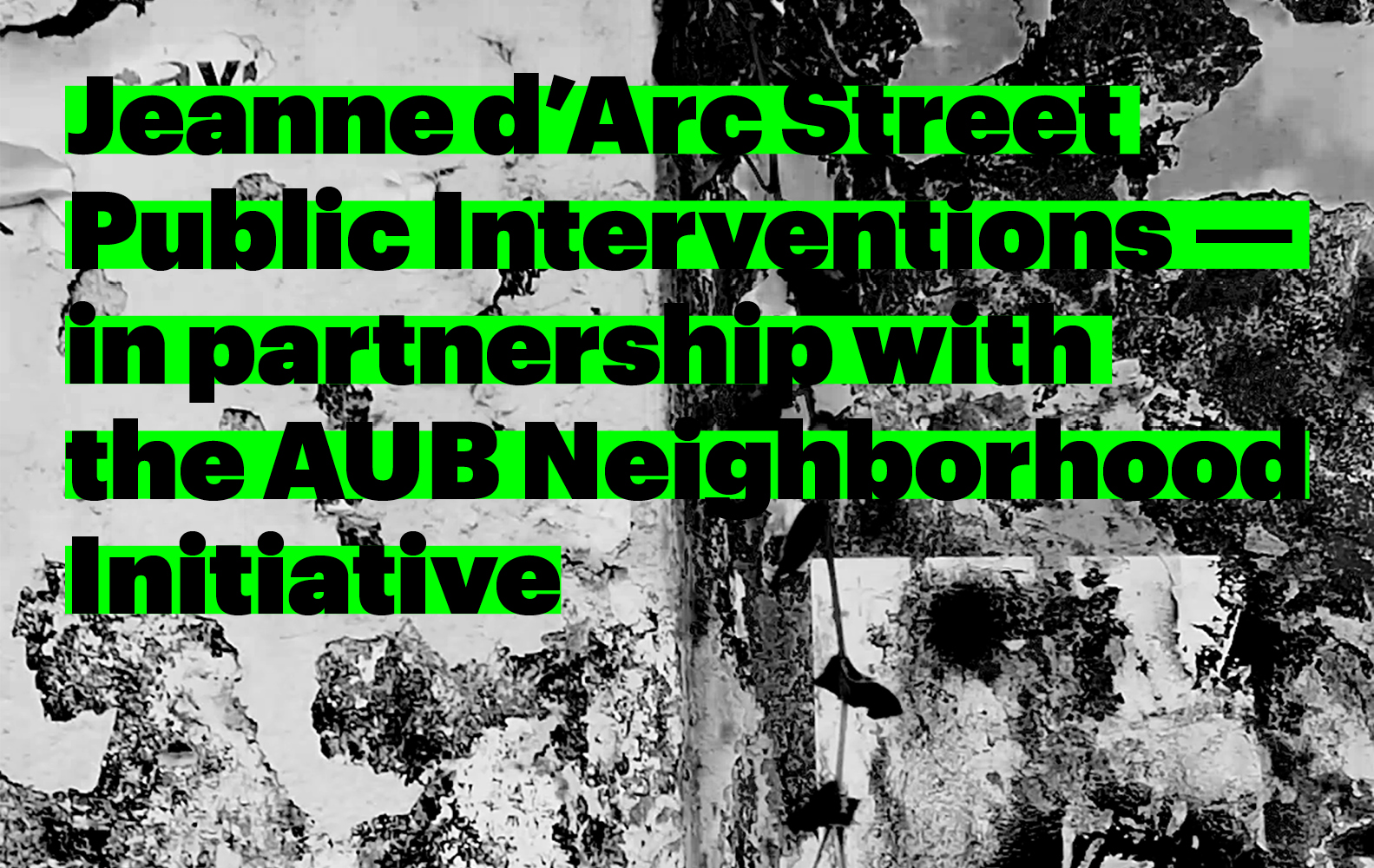 Jeanne d'Arc Street
In partnership with the AUB Neighborhood Initiative
Beirut Design week and the AUB Neighborhood Initiative are collaborating this year to launch a series of interventions activating Jeanne D'Arc street that was rehabilitated as a model street for the city of Beirut. In a joint effort between the Beirut Municipality, the AUB Neighborhood Initiative and the Center for Civic Engagement and Community Service, the street was designed to be inclusive, age-friendly and pedestrian-friendly bringing together residents and businesses, urban designers, and accessibility advocates. 
We have mobilized designers to create projects, objects, interventions, and performances that will contribute to the rehabilitation of the street to set it as an example to be replicated in other streets around the City. The themes include urban green, urban farming, urban furniture, reading and storytelling, play, collective memory as well as walkability, soft mobility, recycling, and sustainability. All of the projects were produced in partnership with the AUB Neighborhood Initiative and many interventions will be permanent additions to the cityscape.
---
URBAN CIGARETTE-WASTE RECEPTACLE
Designed for the AUB Neighborhood Initiative 
These urban ashtrays are installed around the AUB campus to reduce littering and thus limit the amount of cigarette-waste that makes its way into Lebanon's already strained ecology. In partnership with Recycle Lebanon, the collected butts will be recycled into paddleboards that will, in turn, be used for beach cleanups.
To empty the receptacle, the innovative design reduces a traditionally 5-step process (unlocking, removing, emptying, replacing, and re-locking) to a single intuitive gesture, as familiar as turning a door-handle, free of all physical contact with the waste or the container. 
The production of these receptacles was supported by the AUB Tobacco-Free Initiative.
---
PEDESTRIAN SAFETY THROUGH PHOTOVOICE
BY AUB - FAFS - DEPARTMENT OF LANDSCAPE DESIGN AND ECOSYSTEM MANAGEMENT (LDEM) & UNIVERSITY FOR SENIORS (Ufs)
The intention of this project is to evaluate the quality of outdoor built environment in different neighborhoods in Beirut city limit and the level of pedestrian safety and sidewalk accessibility of older adults residing in these selected neighborhoods.
The assessment of the interaction of older adults with urban public places and streets in Beirut photographs as a voice for community change. By using photovoice, as an effective tool for illustrating sidewalk and street obstructions, participants aim to reach out decision makers and elected officials to improve the existing pedestrian safety issues relevant to older adults' ease of access. 
AUB - MSFEA - Department of Architecture and Design - 100 Basic Design - Fall 2017
Karim Farah - Pascal Hachem - Rana Haddad - Hatem Imam - Sandra Richani - Raffi Tchakerian - Shawki Youssef
Students: Baraa Al Ali - Aya El Husseini - Nour El Hout - Reem Mikati - Christelle Moubarak - Amir Moujaes
---
---
BY AUB - MSFEA - ArD - 100 BASIC DESIGN - FALL 2017
With so much damage being done to our environment and so many resources being wasted, it is imperative that we re-use and recycle what we have, with water being no exception. This self-watering plant system makes use of the AC's drain pipes to irrigate the budding plants within the street interventions designed by the students, adding a new life to our neighborhood. 
The different designs address contextualization, sustainability, recycling, awareness and greening to better serve the community.
---
BETWEEN A THOUGHT AND ANOTHER (Ya wa Ya)
BY BePublic - AUB - MSFEA - Department of Architecture and Design - Vertical Studio C - Spring 2018 
Rana Haddad - Pascal Hachem
Students: Tala El Khatib - Jad Najm - Tima Rabbat - Mariya Zantout
Our installation "between a thought and another" on Jeanne D'Arc street acts as a horizontal interactive memorial which incites pedestrians to interact with it and experience the public and private dichotomy.
The rotation of the installation highlights the causal and interdependent relationship between public and private, past and present.
The production of this project was supported by NAGGIAR.
---
This is a design intervention that will engage with the residents of Jeanne d'Arc in different activities around the topic of Play in the city. The result will be a playful addition to the neighbourhood's fabric, a colourful mural reminding the people that their participation is crucial in shaping their environment and that play is important for all ages.
Don't forget to Play!
This project was supported by Najem Group & Co.
---
Under the zanzalacht tree 
They found her 
On Jeanne d'arc street 
first time they saw her
Wrapped in thread 
from head to toes 
How when whom
no one knows.
Dar Onboz shall weave tales of a neighborhood and its dwellers with a moveable show in Jeanne d'Arc street. Between a stroll a game a nursery rhyme and a tale with Nadine R.L Touma the Hakawati, Maya Fidawi the artist, Sivine Ariss the musician.
---
---
LITTLE BRICKS, BIG MESSAGE
This urban art initiative aims at highlighting forgotten heritage and patching up traces of the war around the city, using Lego bricks, hinting at childhood and play, and symbolically representing larger construction blocks. We will shed light on the rich heritage, nature and culture in and around Jeanne D'arc street, a form of reclaiming the street and protesting to preserve heritage and cultural sites in the new urban design fabric. 
The main objective is to get people together, in realizing a change in the city, even if it were small.
It is an open invitation, a social experiment.
Recycle your old Lego bricks and let's play in the street!  
---
Let's give and take books  
This free library aims to inspire a love of reading and strengthen community ties by encouraging book exchange around the city.
It increases access to books for readers of all ages and backgrounds. 
Anyone passing by can take a book to read or leave a book for someone else to read.
---
THE MOBILE GREEN HAND BOTANICAL GARDEN (mGHBG)
BY GREEN HAND ORGANIZATION
The project aims to stimulate all groups of society, especially the youth, to engage in the conservation of native wild plants. This project was carried out through the redesign of an old bus to turn it into a mobile botanical garden. The bus offers different types of wild plants in an attractive way. The mGHBG visits schools and universities and offers the students different programs and activities educating them about the importance of biodiversity and its conservation.
---
TREES & BIRDS IN & AROUND JEANNE D'ARC STREET
BY GREENER-ON THE OTHER SIDE
An invitation to honor and value the presence of nature, birds and trees in the streets of Beirut .
Walk around Jeanne D'Arc street,  follow the map and discover the distinct character of this neighborhood, with heritage architecture, and large specimen trees scattered around, creating various opportunities for life on the street. 
Take time to notice the tags, read the stories, history, origins, and benefits of Beirut's awesome trees. 
Listen to the sound of the birds, read about the ecosystems thriving in the trees and discover the stories of people appropriating spaces around them.
---
---
We live in an environment where we find ourselves subjugated by a constant flux of information and distraction, both visual and sonic. Silence has become a commodity for the privileged. 
The Silent Room project advocates silence as a form of resistance, a cleansing necessity to reclaim authorship of our thoughts and of ourselves.
It is a public-private space, a shed where dwellers can freely rest, individually, for a brief moment in a cocoon-like space, acoustically isolated from the city noise.
---
While large green areas in Beirut have become rare, small gardens are also disappearing due to the rampant construction of large real estate projects replacing an older urban heritage fabric that was often characterized by the garden house. "Urban hives" proposes to reintroduce the garden in parking lots. The proposed car-sized lightweight structure, raised above the car, is a lifted garden characterized by urban farming and beehives. 
---
Ripple came as a direct response to the staggering amount of paper waste produced by architecture students. The installation was born through self-accountability by realizing what a discarded paper tube meant. Ripple is generated by individually slicing 600 paper tubes which were gathered on a slim period of 3 months from various print labs in and around our universities. Each of these tubes, throughout their lifespan, has held 50 meters by 1 meter of paper in width and length which totals to 30000m2 which translates to 3.6tones of wasted paper used to showcase works which have had no permanence. The paper wave is a wake-up call to re-think and re-evaluate our pointless consumption of paper in this digital age. The statistics on this problem are alarming, however, no one is sounding any alarm bells. The payoff for us is the fact that our creation has now taken a physical space in the world and it has a permanence which will most likely outlast this exhibition. And it's not vulnerable either, unlike its core element, the paper tube, a quasi-object having no substantial meaning, however, if combined with a reason to change and a wise and sensible mind, this vague element can now have a purpose and bring a message through, a message of change.
---
Cars take over free spaces in urban areas and have become part of the status quo. The space that cars use up can be divided into multiple spaces for bicycles which are healthier, greener and less obstructive mobility tools.
This installation seeks to break the omnipresent car-centric culture in Beirut and to shift the perspective towards re-appropriating the limited space within a city through different possibilities.
This pilot project aims to eventually lead to implementing bike parking facilities in the Hamra neighborhood. The bicycle racks have a dual purpose of providing safe, accessible parking to people using bicycles in Beirut, and of giving bicycles space on the streets. Through making bike parking available in key locations around the city, we aim to make cycling for mobility more visible and more legitimate, both to current bicycle users and to the general public. 
---
How do we situate ourselves in a city inclined to constantly overwrite itself? In an interactive walk along the streets of Beirut, starting on Jeanne d'Arc street, participants explore this dynamic urban reality. Guided by a local performer, they engage with this moving phenomenon through performance and sensory-based activities.
---
---
BARRAK NAAMANI OPEN HOUSE
10 AM - 6 PM 
Barrak Naamani specializes in bespoke shirts and suits, but he has also become known in his neighborhood and beyond as an artist. 
He has developed a burgeoning side business of functional art made with antique discarded sewing machines.
His work was displayed at 'Maison&Objets' in Paris. Recently he has been invited to exhibit at the International Art Fair of New York.
Address: Sidani Bldg. Sidani Street 
---
NK BY NOUR KAYS OPEN HOUSE
10 AM - 4 PM
NK is a conscious fashion accessories brand, made in Lebanon. The brand was born 4 years ago when Nour decided to find a solution for the discarded plastic bags in Beirut. This resulted in a line of products that are handmade, locally produced, water resistant, light, durable and made of waste.
We will be holding an open studio where passerby are invited to have a look into our workshop, experience the design and production process, and see end products.
Address:  Matta building (same as Liban Post) on Makdessi Street 
---
Recycling a shell, is an artistic installation that will take place in the Khalidy House, Jean d'arc Street, hamra on June 23rd & 24th in collaboration with the London based sound performer Merijn Royaards. 
The installation, Which is part of the #BDW2018, aims to revive / Recycle iconic cultural influential spaces, destroyed during the war via an act of sustainability that (i) engages people mind and behavior, (ii) project a political/ social reconciliation, and (iii) might be the source of a positive environmental transformation … 
The khalidy house will be transformed into a musical play ground in 3 scenarios ;(i) emptiness, (ii) ppl presence (iii) building a new perspective; during which acoustic records registered from different buildings and public spaces in the city of Beirut (i.e. the egg) / Tripoli (i.e. RKIF the dome theatre)/ London (i.e. parks) will be used to rebuild the city image and relate it to the city actual architectural urban development connecting;
- Occupation to emptiness 
- Concrete blocks vs green space
- Past & present
The installation will host 5 main sections:
- The staircase
- The labyrinth
- Performance room
- The bathroom
- The terrace
This intervention will be repeated during London Design fair, September 2018, in order to create a bridge between both cities and to transcend our experience/knowledge towards a better understanding of cities architectural evolution
IMPORTANT NB: the installation will be experienced via a one hour long experimental path that begins sharply as mentioned below;
- June 23rd at 5pm
- June 23rd at 6pm
- June 24th at 5pm
- June 24th at 6pm
---
---
Color-Me-Beirut and The Do-Lab Project come together in a Pop-Up Installation with the intention to promote human interaction through art and play. The concept stems from nostalgic childhood forms of expression and creativity. Visitors will be able to color in a large-scale coloring book that is thematic to Lebanese culture. The art project will gradually obtain color from its original black and white lines, into a colorful masterpiece filled in by the community.
---
BY CULTUREGHEM (BE) AND COCINAR MADRID (ES)
Watermelon Circus is a combo between Cultureghem (BE) and Cocinar Madrid (ES).
Remixing people, places and a lot of food is what we do.
We care about getting people to meet, to trigger a collective food memory and want to cultivate urban space. Mobile kitchens are our weapon of choice and we are always interested in crossing borders.
We dream of coming to Lebanon to come and build mobile kitchens with you. With your ideas. For your city. We believe that together we can do magic. We hope you do too?
---
A walk in Beirut can sometimes feel much like a walk in a maze, but the diversions to your target destination are not block-ends and circular paths, but obstacles on the pavement and footpaths.  From electric cable boxes to parked cars, to commercial marketing material or badly placed signage, the pedestrian has to be on the constant lookout, alert, and ready to swerve… Experience and explore this sensation in our installation on Jeanne d'Arc St and let's find and fight for a solution to this endless battle together.