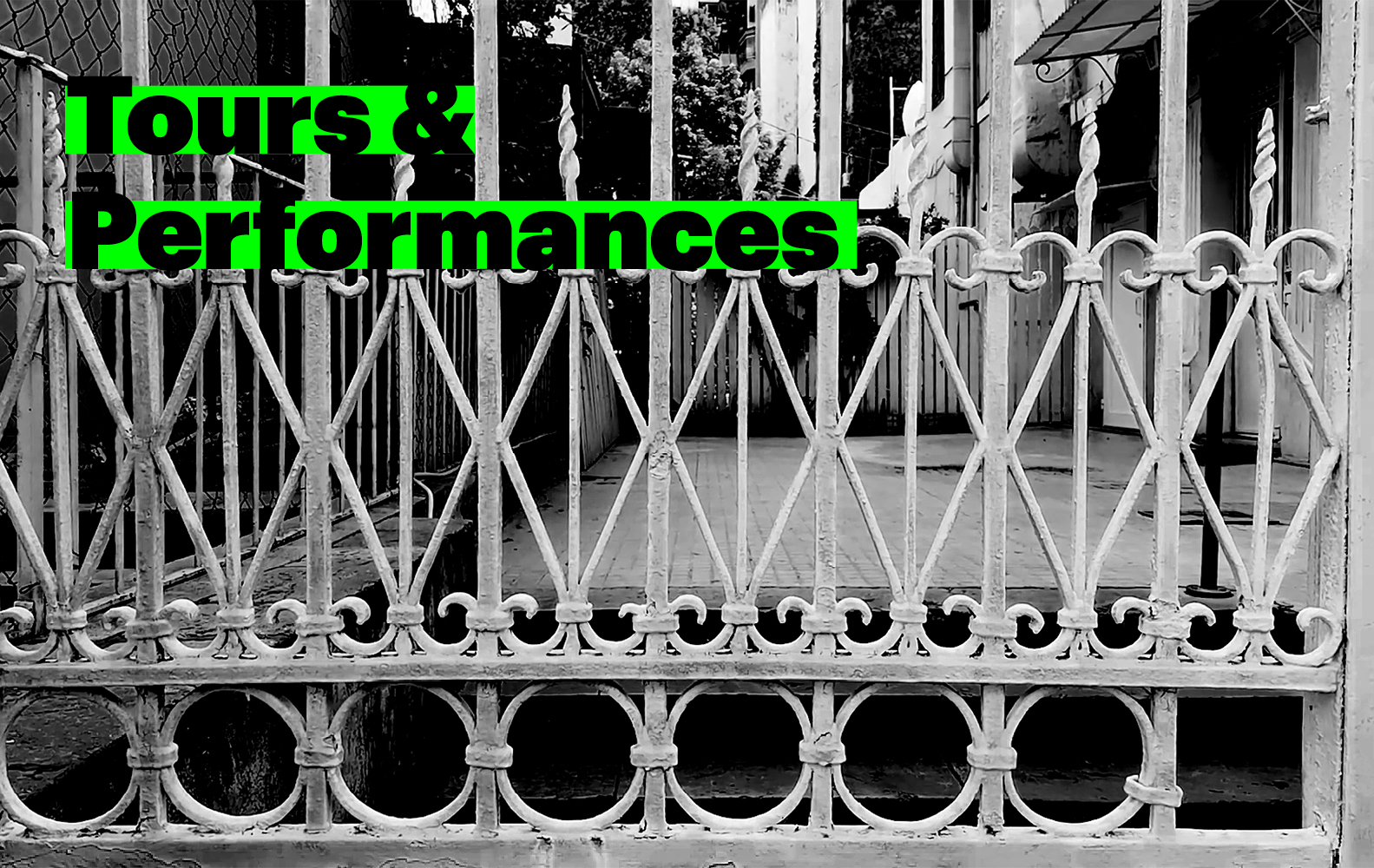 Tours & Performances
Saturday, June 23
5 PM - 7 PM
Sunday, June 24 
5 PM - 7 PM
How do we situate ourselves in a city inclined to constantly overwrite itself? In an interactive walk along the streets of Beirut, starting on Jeanne d'Arc street, participants explore this dynamic urban reality. Guided by a local performer, they engage with this moving phenomenon through performance and sensory-based activities.
Meeting point: West House Plaza, Jeanne d'Arc street

Fee: 10,000 LBP
Register: contact@yaraqa.com 
---
PERFORMANCE
Saturday, June 23
6 PM - 8 PM 
Sunday, June 24 
Under the zanzalacht tree 
They found her 
On Jeanne d'arc street 
first time they saw her
Wrapped in thread 
from head to toes 
How when whom
no one knows.
Dar Onboz shall weave tales of a neighborhood and its dwellers with a moveable show in Jeanne d'Arc street. Between a stroll, a game, a nursery rhyme and a tale with Nadine R.L Touma the Hakawati, Maya Fidawi the artist, Sivine Ariss the musician.
Meeting point: Parking at Sidani - Jeanne d'Arc Intersection
---
IN COLLABORATION WITH MIRA'S GUIDED TOURS
BDW is organizing a tour on some of the oldest and still functioning local crafts in Tripoli, formerly famous for its manufacturing and artisanal sector. The aim of this tour is to introduce the new generation of designers as well as the general audience to those traditional local crafts with an attempts to reinforce designer/craft collaborations.
7.30 ___  Meeting in front of Dunkin Donuts, facing Martyr's Square Beirut Downtown
8 am  ___  Departure from Beirut 
9.30 am  ___ Arrival to Tripoli 
9.30 am to 9.50 am  ___  Stop at Ahwak coffee shop for coffee and toilet break 
10 am  ___ beginning of the tour
1. Soap factory 
2. Mattress and covers 
3. Tailors 
4. Wicker 
5. Copper 
6. Carpenters  
7. Jewelry 
8. Pottery mina
1.30 pm  ___ Lunch at Fjaka Resto /café in Mina
3 pm  ___  Visit Via Mina, Corniche and Abdel wahab Island with UNIDO 
Fees: 43 USD (excluding Lunch)
---
TOUR
Tuesday, June 26
1 PM - 1:45 PM
3 PM - 3:45 PM
Discover how we're building a living home for a better city, by taking a tour in our CONVIVIUM Home, a Living apartment that embodies the characteristics of new technologies and Biophilic design in the heart of Gemmayze. 
This tour will explain how technological and natural features and processes are integrated in the design of the built space. The participants will learn about the several sustainable practices applied such as the sustainable materials used, highly efficient mechanical systems with underfloor heating and cooling, domestic grey-water treatment plant, waste management system, recycling and composting, selection of native and beneficial plant species…
Limited places. Free of charge
Meeting point:  Ginette Cafe, Gouraud Street, Gemmayzeh
---
TOUR
LAYERS OF A GHOST CITY: DOWNTOWN WALKING TOUR
Tuesday, June 26 
3 PM - 6 PM
A walking tour in the Beirut Central District that talks about the controversial reconstruction project of the area after the war. We look into the political, legal, archeological and social aspects of the project.
Fees: 10 USD
Meeting point: Saint Georges Hotel
Registration: Calling/Whatsapping +961 70 347 571 
---
GUIDED TOUR
KARANTINA PLAY GARDEN: PLATFORM FOR RECONCILIATION
Friday, June 29
6 PM - 8 PM
Karantina originally the place of enforced isolation‹ became a refuge for the minorities and the displaced, and until today is rich with communities from diverse ethnic backgrounds.  It has also been witnessing a rise in art galleries, major developments, as well as a nightlife scene all of which are subsequently impacting its socio-economic status. The public garden was a previously abandoned space at the heart of Karantina with lush clumps of tall trees forming a charming oasis.
Join us for the guided tour where we will walk you through Karantina's history and complexity, the collaborative design process, our dialogues with the community and the kids of Karantina; to learn about their dynamic play rituals and dynamics and how they were the main drive to transform the space to become a platform for harmonious reconciliation between past and present, enabling grounds of encounter between different communities, cultures, and generations.
---
PERFORMANCES ON THE CHARLIE CHAIR
AT NAYEF FRANCIS DESIGN STUDIO
For the Beirut Design Week 2018, NFDS will be hosting a one of a kind event that will bring together different people from various backgrounds who all share the same passion: using art to induce change. We have gathered around the best artists recognized for their unique sense of style and we have reached out to several NGO's in order to make of this event one great mission.
Since the theme revolves around the urban matters of the city, each artist will have a day to design, paint and even tag our famous Charlie chair in front of the attendees. Their ideas will be the result of weeks of thinking, sketching and brainstorming that combines each artist's style, NFDS's identity and a reflection of the theme of CITY and URBANISM.
On the last day, the chairs will be presented in front of our guests and will be put up for auction. The proceeds will fund each Ngo's mission and support each and every artist that participated in the event 
22 JUNE: Ivan Debs is going to design on the Charlie Chair for Kunhadi 
23 JUNE: Ivan Debs
24 JUNE: Off
25 JUNE:  Spaz for Tamanna at 3pm 
26 JUNE: EpS for Kunhadi at 4-5 pm 
27 JUNE: Jad El-Khoury ( Potato nose) for Kunhadi from 12pm to 4pm then from 7pm to 9pm
28 JUNE: START OF BIDDING FROM 5 TO 9 PM for the 7 artists: Randa Ali Ahmad, Katya Traboulsi, Ashekman, Spaz, EpS, Jad El Khoury and Ivan Debs
29 JUNE FINAL BIDDING AT NAYEF FRANCIS DESIGN STUDIO FROM 5 TO 9 PM for the 7 artists: Randa Ali Ahmad, Katya Traboulsi, Ashekman, Spaz, EpS, Jad El Khoury and Ivan Debsa
For daily updates follow us on Instagram : nayeffrancis